Four CSUA faculty now certified Mikrotik Academy Trainer

Published November 13, 2019 by Billy S. Javier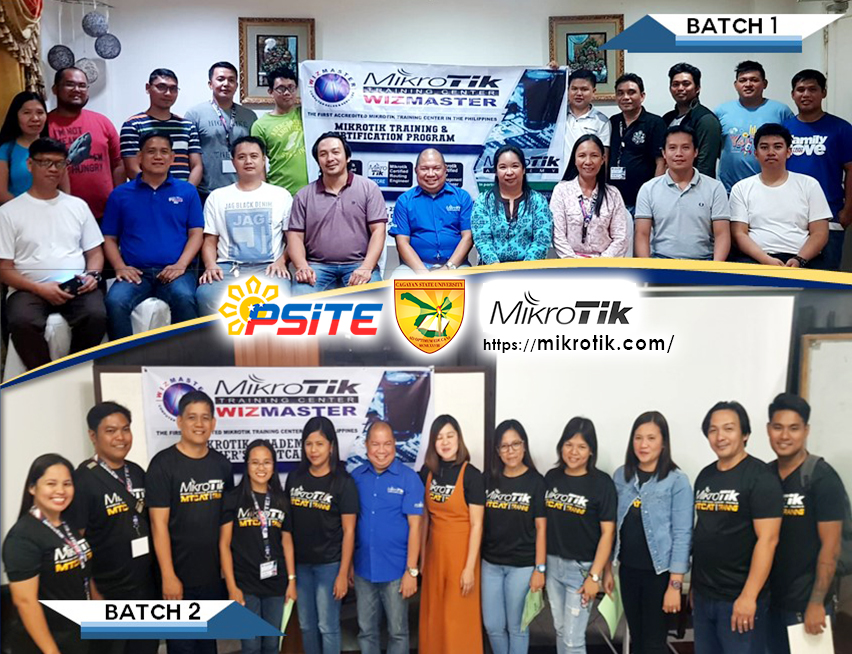 Four faculty members of the Cagayan State University Aparri are now certified MikroTik Academy trainers after successfully passing the series of examinations in the six-day training on MikroTik Certification Program on September 23-28, 2019 (batch 1) and October 21-26, 2019 (batch 2) respectively at the University of La Sallete, Santiago City, Isabela, Philippines.

Prof. Jhunrey C. Ordioso, Prof. Emerito A. Lanojan, Prof. Leo P. Paliuanan and Dr. Estela L. Dirain, faculty members of the College of Information and Computing Sciences of CSU Aparri were all certified as MikroTik Academy Trainer after passing the examinations in three Certification Programs. All four CICS faculty members are now recognized as MikroTik Certified Network Associate (MTCNA), MikroTik Certified Routing Engineer (MTCRE), and MikroTik Certified User Management Engineer (MTCUME).

With these certifications, CSU Aparri can now be recognised as one of the MikroTik Academies in the Philippines once a Memorandum of Agreement is forged between MikroTik and Cagayan State University. With the recognition, the College of Information and Computing Science can integrate the MTCNA courses in the computing curricula, BS Information Technology. The Campus will also receive 20 units RB941 MikroTik Routers and other Networking Laboratory equipment which will be used for instruction in computer network-related courses from MikroTik.

As recognized Mikrotik Academy Trainers, Prof. Ordioso, Prof. Lanojan, Prof. Paliuanan, and Dr. Dirain can now train computing students for MTCNA gearing them to be certified as internationally recognised network associates. Apart from being an academy trainer, they can now also serve as Mikrotik consultant for computer network management systems.

Organised by the Philippine Society of Information Technology Educators Inc. (PSITE) Cagayan Valley, the MikroTik Certification Program was in collaboration with the Commission on Higher Education (CHED) – Region 02 and in partnership with the University of La Sallete, Santiago City. Participants to the training programs were Information Technology and Engineering faculty members from the different public and private higher education institutions in Region 2 and private IT practitioners.

SIA Mikrotīkls, known internationally as Mikrotik, is a Latvian company founded in 1996 to develop computer networking equipment and software for Internet connectivity in most of the countries around the world.
SHARE ON: